High Rise Window Cleaning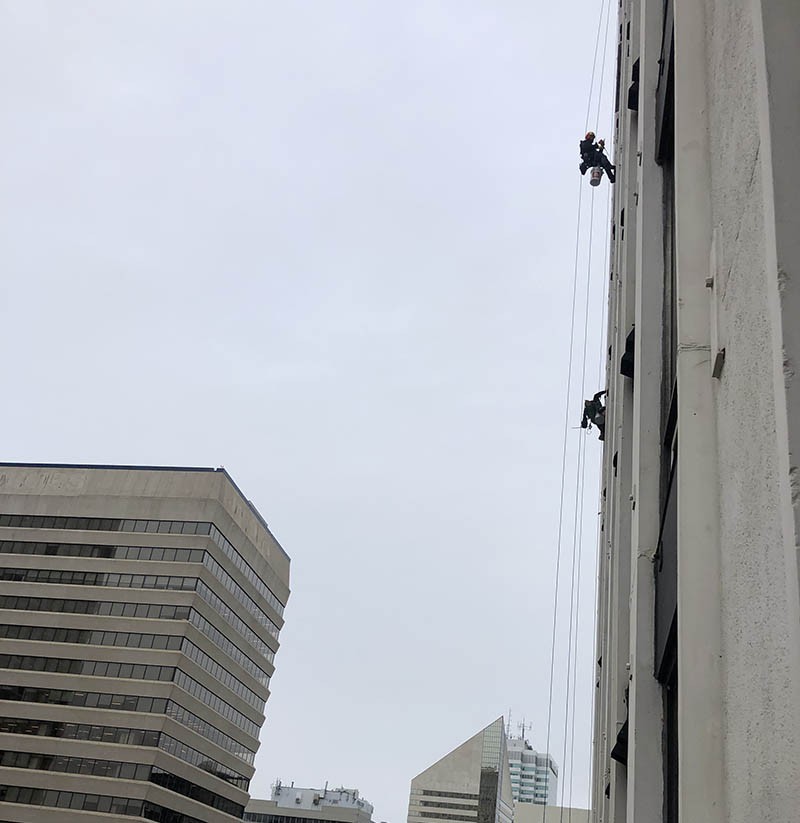 Window Cleaning
Rope Contractors is committed to exceeding your expectations with superior-quality window cleaning services. Our skilled rope technicians leave the windows of your commercial or residential property in premium shape, allowing it to meet the highest standards of appearance, hygiene, and health.
High Rise Window Cleaners is a division of Rope Contractors and specializes in commercial and condominium window cleaning. When you engage our services, we will meet with you beforehand and review all phases of the job before starting, including any safety concerns, scheduling, timeframe, and any challenging or difficult to access areas that our dedicated team of high rise experts may need to focus on.
Our services     
Window cleaning is always a challenge for high-rise and condominium owners. Not only do you need the right tools, you also need the knowledge, skills, and training to do a safe but outstanding job. High Rise Window Cleaners is proud of its track record of achieving exceptional results in the commercial and residential cleaning industries.
Our services include:
Window washing

Post-construction window washing

Metal cleaning

Oxidation removal

Scratch removal

Window caulking

Protective and solar film installation
As cities across Western Canada grow, their newest buildings are becoming taller, more elaborate, and adorned with uniquely shaped windows that take advantage of natural light. High Rise Window Cleaners is one of the few window washing companies offering all of the services you need to keep them looking pristine.
Our approach
We utilize rope access to complete projects, as it is the safest and most efficient method to work at heights. Thanks to our professional-grade and eco-friendly detergent, you will recognize a difference in your windows with thanks given to our professional grade eco-friendly detergent, which does not leave a film that attracts dirt.
What You Can Expect From Us
We will service your building in the most efficient, safety-conscious way. Our commitment to quality service means we can manage the needs of your building, the right way every time. We are proud of our reputation for:
On-time delivery of quality service

Cleaning designated windows and wiping ledges

Professional detergents used for long-lasting clean windows (Glass Gleam 4)

Keeping the work area clean

Environmentally friendly access methods and products

Adherence to all building protocols

Impressive customer service
Three year or more scheduled cleaning contracts are eligible for discounts
Our Safety Qualifications
COR Certified
Cor is awarded to employers who develop health and safety programs that meet established standards.
IRATA & SPRAT Certified Technicians
The training given to IRATA technicians follows a strict work based syllabus that delivers highly committed personnel who are determined to deliver safe work.
WCB & Fully Insured
We are fully insured and bonded so you can feel confident we are committed to operating with integrity, offering you the protection and the trust you need.
If you own or manage a high-rise, you'll appreciate the way that our skilled and highly-trained team of rope technicians can clean hard-to-reach and uniquely-shaped windows without putting themselves, the public, or the project at risk. For more information or to schedule a cleaning estimate, please contact us.