Rope access is the safest and most efficient means of carrying out all building maintenance that needs to be done at height. At Rope Contractors, we use a combination of modern rope access equipment systems, advanced technician training, and industry-approved safety practices to manage the most complicated building maintenance projects with minimal risk of property damage or personal injury.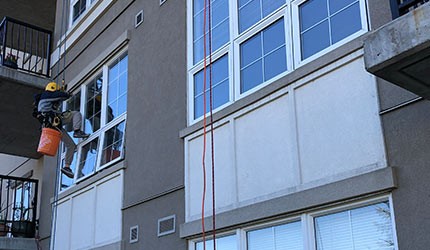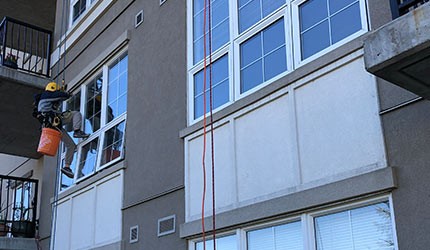 Window Repair
Architectural glazing and window repair services is one of our specialties. The professional rope access technicians at Rope Contractors have the skills, training, and experience to successfully manage high-rise repairs and replacements.
Our approach to window repair jobs is precise and thorough. Upon arrival at your building, we inspect all aspects of the repair project, including:
Identifying the original glazing system

Examining the thickness, layers, air gap, and any installation particulars

Taking accurate measurements of any broken panes
We partner with reputable providers of quality glass manufacturers and suppliers to provide building managers across Alberta and British Columbia with ideal results at a fair and affordable price.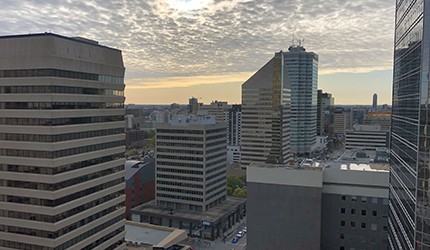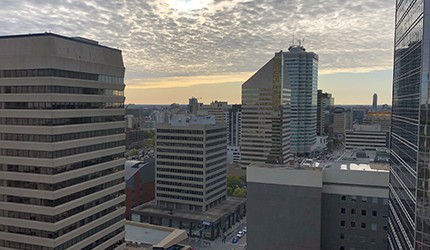 Rope Access dusting and cleaning
One of the biggest challenges with high-rise maintenance is dealing with the airborne dirt and debris that collect in areas beyond the reach of in-house cleaning staff and traditional cleaning methods like ladders and scaffolding. In a lot of cases, this build-up can accumulate unnoticed until they develop into a bigger problem.
The high-level cleaning services at Rope Contractors will help you keep your building's appearance and hygiene at top levels. We have the affordable cleaning solutions and specialist staff to handle all of your seasonal and on-demand cleaning tasks, and will use safe, proven rope access methods to do a job that makes your building an ideal space for living or working.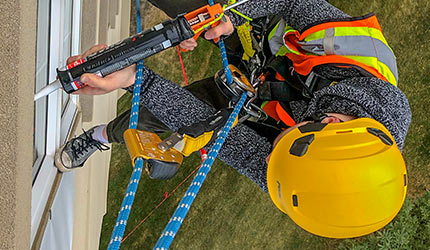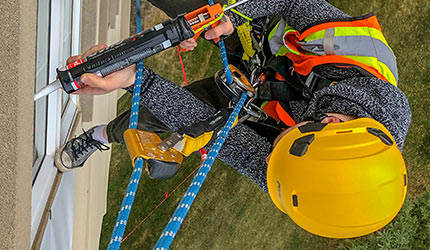 Caulking & Sealing
The Rope Contractors team is your single-source solution for caulking application and repairs, joint sealing, and overall waterproofing of your building exterior. Our clients know that they can rely on us for excellent results delivered in a safe and effective manner.
We use external mastics consisting of neutral-si-hybrid, and low-modulus sealants all intended for ultimate weather sealing. Once applied, they resist degradation or cracking due to high wind movement or frequent changes in UV radiation temperature.
Our building exterior protection services include:       
Examination and appropriate sealing of all brick work and metal facades

Glazing installation and repair

Claddings and guttering inspection and repair

PVC-U windows and door frame

External expansion joints and pipe work
Using our unique and flexible rope access methods, we can scope out your building completely, identify critical repairs you may have missed, and create a report detailing all findings. When our technicians start, we will carry out all work on time and at a standard that you deserve.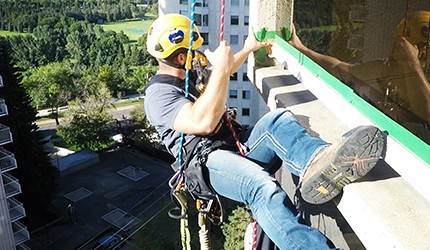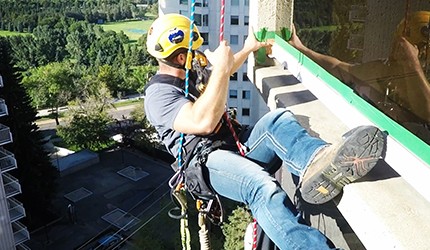 Concrete Repair & Brick Replacement
Rope Contractors will help you maintain the structural integrity of your building by providing you with concrete repair and brick replacement services. Our areas of speciality include:
Brickwork surveys and repairs

Concrete inspection and repair

Wall tie surveys

Maintenance inspections and surveys
We also use our trusted and effective rope access methods for structural repairs such as brick slip reinstatement, wall tie replacement, crack stitching, and repointing. We can repair most issues in a matter of hours and our careful attention to details ensures guaranteed longevity and a superior result.