At Rope Contractors, we understand the importance of maintaining the integrity of community bridges. Our bridge maintenance team will carry out the repairs and upgrades needed to increase the strength of the infrastructure and extend its service life. In the long run, you'll save money on maintenance, repair, and replacement costs.
Our Methods
For bridge maintenance and other exacting tasks at height, Rope Contractors uses SPRAT and IRATA-certified rope access, which allows us to provide you with more detailed and thorough maintenance, cleaning, and inspection services. Our goal is to enhance bridge structure safety and appearance while minimizing disruptions.
Our skilled technicians are proficient in the use of several rope access techniques. A safe combination of secure attachment and freedom of movement allow them to reach critical areas with a quickness and efficiency that ensure a thorough job and adherence to your budget.
Bridge Maintenance
Bridge maintenance services that we offer include:
Cleaning and coating repair

Torque testing

Bolt replacement

Installation of monitoring equipment such as strain gauges
We use strategic maintenance plans to help extend the working life of your bridge. By using rope methods, we can get hands-on access to critical locations that might otherwise be too difficult or expensive to reach. The result is cost-effective and efficient bridge maintenance services that are carried out to professional standards every time.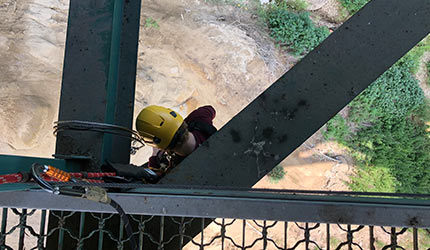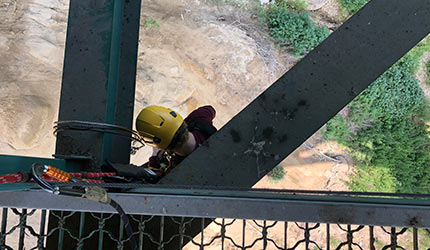 Bridge Cleaning and Washing
Preventative maintenance is to the successful preservation of community bridges everywhere. To ensure the ongoing integrity of the concrete and steel components, we offer cleaning and washing services that remove residue that could otherwise lead to the deterioration of core bridge elements.
At Rope Contractors, our bridge cleaning services will:
Comply with all safety laws and needs.

Our team members are trained and certified in SPRAT and IRATA rope access safety methods, which are rigorous and designed to ensure a safe process.

Have no detrimental impact on the environment.

We use environmentally sustainable cleaning products and access methods that do not emit harmful gases into the atmosphere.

Ensure the ongoing efficiency of your transportation infrastructure.

As bridge cleaning and washing specialists, we know how to achieve results that let your bridge stand the test of time.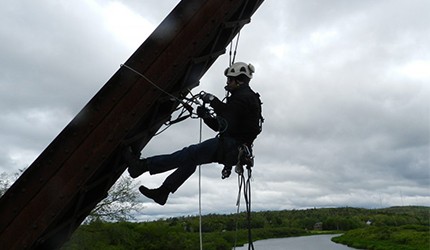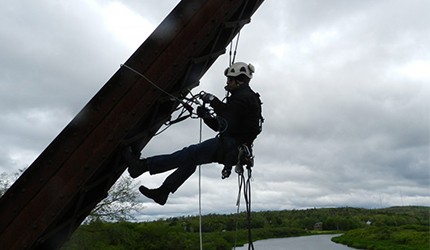 Bridge Inspection
We understand all aspects of bridge management and use our experience-based insights to help clients evaluate the safety of their bridges. Our diligent inspection programs include the following measures:
Confirmation that the structures meet Transport Canada standards

Access to trained and experienced professional engineers

Rigging and supervision by SPRAT and IRATA-certified rope access technicians

Use of fall protection and rescue equipment
We work with trained inspectors to carefully review each part of the bridge, identify any necessary maintenance work, and examine all components to ensure that the structure remains safe for travel.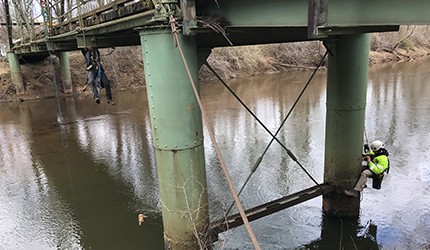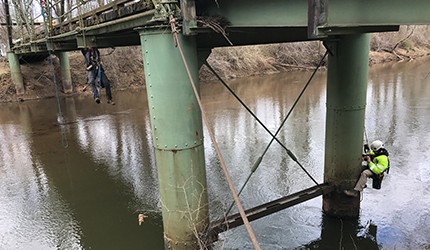 Bridge Painting
Bridges are not your typical painting job, but with Rope Contractors, your project is in good hands. We have completed several sandblasting and painting projects, including the repainting of:
Pedestrian walkways

Structural steel supports
We use corrosion-control products that fortify your bridge's structures while improving their appearance, ensuring strength and performance in all weather conditions. If you are looking for a few cosmetic touch-ups or more intensive projects that involve sandblasting, welding, sealant applications, and industrial paint systems, call us!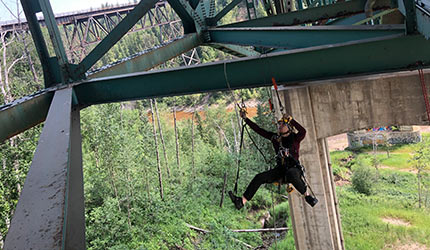 Bridge Maintenance
Each bridge is unique and has its own special repair, maintenance, and painting requirements. Rope Contractors will present you with safe and cost-effective strategies that preserve the function and value of your bridge for years to come. For more information, contact us for a no-obligation consultation today!